Cloud based services - OneDrive, Dropbox and Google Drive
Cloud storage makes sharing files across computers and other devices easy. Many can be used to upload files to myLearn from a desktop or Mobile device. UNE provides a OneDrive account to all staff and students. Dropbox and Google Drive are two other popular services. All three can be used with myLearn.
OneDrive
UNE provides Microsoft Office 365 to all enrolled students. It includes OneDrive and Office Web Apps. OneDrive is a personal library for storing and organising your academic documents. Students have 25GB of space in OneDrive. That's a lot of storage for your study documents.
All files that you store in OneDrive are private, BUT, you can decide to share them with nominated others by placing a file in the 'Shared with Everyone' folder, this will make it easier when working on projects with other students.
Be aware, your OneDrive access will close down 30 days after your student account is archived.
More information about Office365 Web Apps and OneDrive for UNE students is available here. General information about OneDrive can be found on the Microsoft Office OneDrive webpage.
Dropbox
Dropbox has apps available for computers, phones, and tablets. See the Dropbox tour or visit their site at: https://www.dropbox.com/
Google Drive
Google Drive is another optional cloud based service that you can use. It also offers a range of apps to suit different devices: See the Get Drive anywhere page online. More information on Google Drive is available from their site at: https://www.google.com/drive/
Uploading files to myLearn
Files can be uploaded from these accounts when submitting assignments or to other places in myLearn where a file upload option exists. When uploading files in myLearn, select OneDrive, Dropbox or Google Drive in the file picker (see image below) when choosing files. On the first occasion that you do this you will need to enter your login details for the service chosen.
Be aware that linking your Google Drive or Dropbox account with myLearn you are allowing UNE myLearn access to your Dropbox or Google Drive account.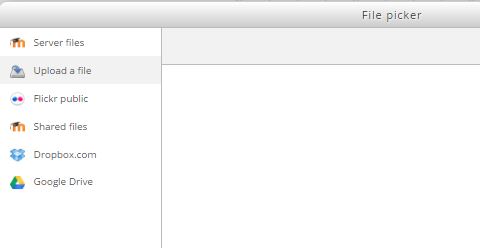 Last modified: Thursday, 12 October 2023, 2:23 PM