What is a wiki?
A wiki is a collection of collaboratively authored web documents. Wikipedia is a popular example. The myLearn wiki is simply one or more web pages that everyone in your unit can contribute to together within the browser using the same simple editor used to write forum posts. No knowledge of HTML or web programming is required. A wiki starts with one front page. Each person can edit the page and add additional pages.
There is no limit on how many times you may edit a page. Each time the page is saved a copy is retained.
Editing a wiki page
Step 1. Click on the edit tag at the top of the wiki page
Step 2. Edit the text
Step 3. Save the page, or preview it before saving
Add a new page
Step 1. Add a link to the new page
The simplest way to add a page is to go to a place within the wiki where a link to the page is expected to display. For example this may be on the wiki front page. Type in some text and include the page name in double square brackets. For example, if the page is to be titled 'Animals of Australia', you may enter 'Find out more about [[Animals of Australia]]'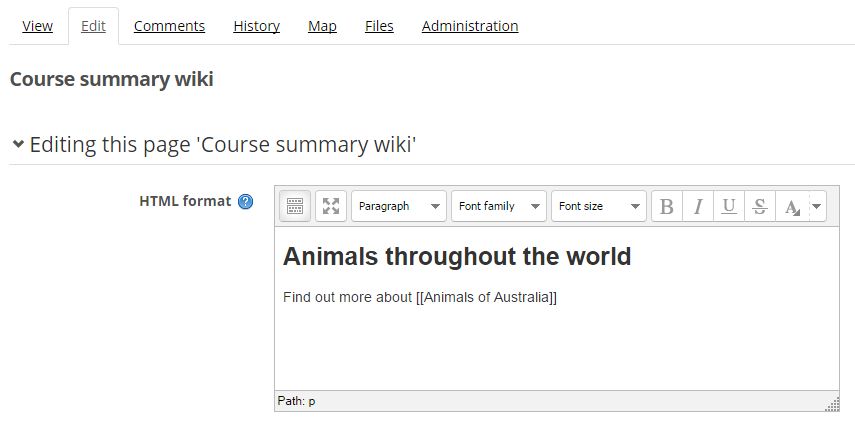 Step 2. Save the page
Save the page. When it displays the link should display in italicised red text. This indicates a link to a page that does not exist yet.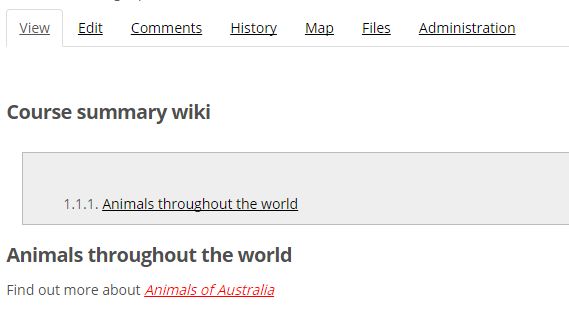 Step 3. Click on the red link
Click on the link. This will open a new page. Start adding text to your new page. After saving, your page will be added to the wiki. The link on the original page will now be regular link.


Link to an existing wiki page
Linking to a page is very similar to adding a new page.


Step 1. Locate the page you want to link to
Go to the page you wish to link to and note the title of the page. It will be text that displays directly under the tabs.



Step 2. Add the title in double square brackets
Go to the page you wish to add the link. Add your text and include the title of the page you are linking to in double square brackets.



Step 3. Save the page
Once you have saved the page, the text in brackets should appear as a link. If it displays as red italicised text it usually means that the page title you entered is incorrect. Check the page title and update your page.
Adding images and links to web pages
Images and links can be added by using the buttons built into the editor. See the myLearn editor page for more information.
More information
More information about the myLearn wiki is avalable in the myLearn docs Wiki page.
Last modified: Thursday, 12 October 2023, 6:30 PM