MyLearn FAQ's
What is myLearn?
UNE's online learning system is called Moodle (abbreviation for Modular Object-Oriented Dynamic Learning Environment), you will see it as myLearn. Most unit learning resources, online activities and discussion forums are provided in myLearn. UNE also utilises other online systems including, Echo360 for lecture videos, Kaltura for other videos, Reading list for readings, Turnitin/GradeMark for assignment similarity detection and Zoom for online virtual classrooms. These systems are integrated with myLearn, so you will not necessarily notice they are separate systems.
Will I need special software or hardware?
No, myLearn will display just like other web pages, so there is no special software you will need to use it. It is important to use an up to date browser. If you don't know your browser name or version go to https://www.whatsmybrowser.org and it will display the browser and version you are using. The ITD hardware page has a list of other hardware and software requirements needed to study at UNE.


When can I access the online site?
Access to the unit sites in myLearn is usually one week before teaching commences, though some units may be released earlier. The trimester dates are available from the UNE Principal dates.You are encouraged to use this time to familiarise yourself with the online site for your unit, begin readings, view the content that has been made available to you, plan assessment schedules and, if available, interact with other enrolled students. Generally it is best to wait until Trimester begins before commencing any activities or assessment tasks, unless directed otherwise. Be aware that teaching staff will not generally be available to answer questions until the start of teaching. You should direct any questions for support before teaching starts to the support services listed in the unit site.
How do I access the online unit site?
Accessing the online teaching sites for your units is straightforward. There are two ways to to do this:
Students can access their online units via the myStudy tab in myUNE. The myStudy tab contains a table on the top right corner of the page. This table has a list of your current units down the side and columns that relate to particular services, such as UNEonline (online unit site). These columns only appear if there is an item that is currently available for that service for at least one of your units. Access an online unit site by clicking on the icon in the UNEonline column for the unit you wish to access. Other myLearn sites that you have access to are listed in 'Other myLearn sites'.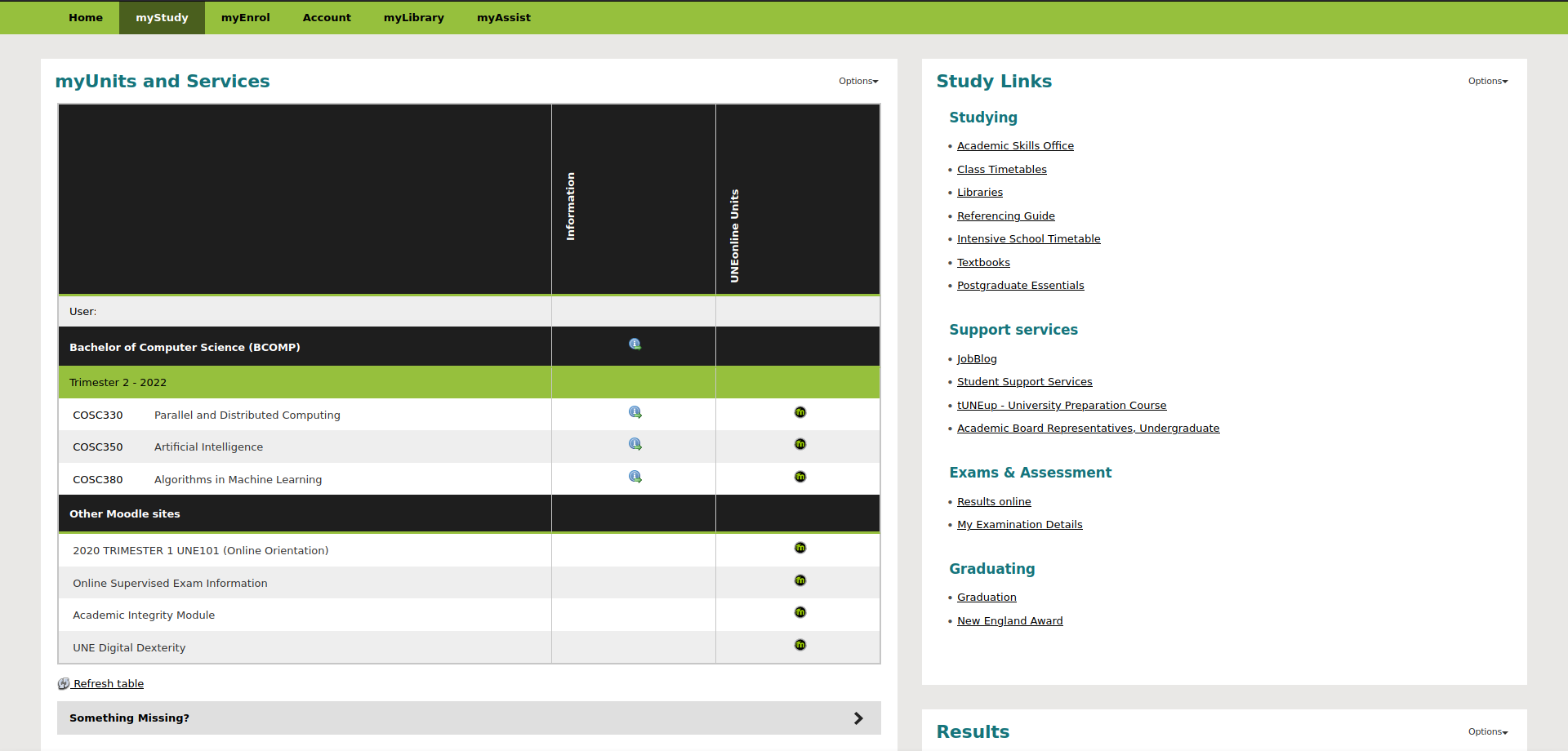 2. Directly using the UNE myLearn home page
You can go directly to myLearn at myLearn.une.edu.au. This will bypass myUNE and will take you directly to the UNE myLearn home page. Log in using the green button at the top right of the page or the Login link in the header. You will then be taken to your myLearn Dashboard with a list of the sites that you have access to.
What can I do if I have difficulties accessing myLearn?
If you have difficulties accessing your online unit you can contact the ITD Service Desk on +61 (2) 6773 5000, toll-free 1800 763 04002 or email servicedesk@une.edu.au for advice and assistance. If you have questions about the unit content or assessment, you should contact the unit coordinator or teaching staff for your unit.
How long will I have access to my unit?
Generally you will continue to have access to your unit/s for 20 days after results have been released for that Trimester. If you have been granted a Special Extension of Time (SET) access will continue until that time has expired. If you wish to keep copies of any files, you should print or download these before the trimester ends.
Last modified: Wednesday, 4 October 2023, 2:35 PM