For most units most material will be online. As well as this material there may be texts or other items that you need to purchase. Here is a brief overview of some of the core information for you to know.


Course and units catalogue
Course and unit information is available via the UNE Handbook.



myUNE
As a current student you have access to myUNE, through which you can access your online units myLearn sites (UNEonline), manage your enrolment, change personal information and access many useful functions. You can log in to myUNE from the UNE homepage using your UNE username and password.
The myStudy tab contains a table on the top right corner of the page. This table has a list of your current units down the side and columns that relate to particular services, such as UNEonline (myLearn) and Information (Course and Unit Catalogue). These columns only appear if there is an item that is currently available for that 'service' for at least one of your units.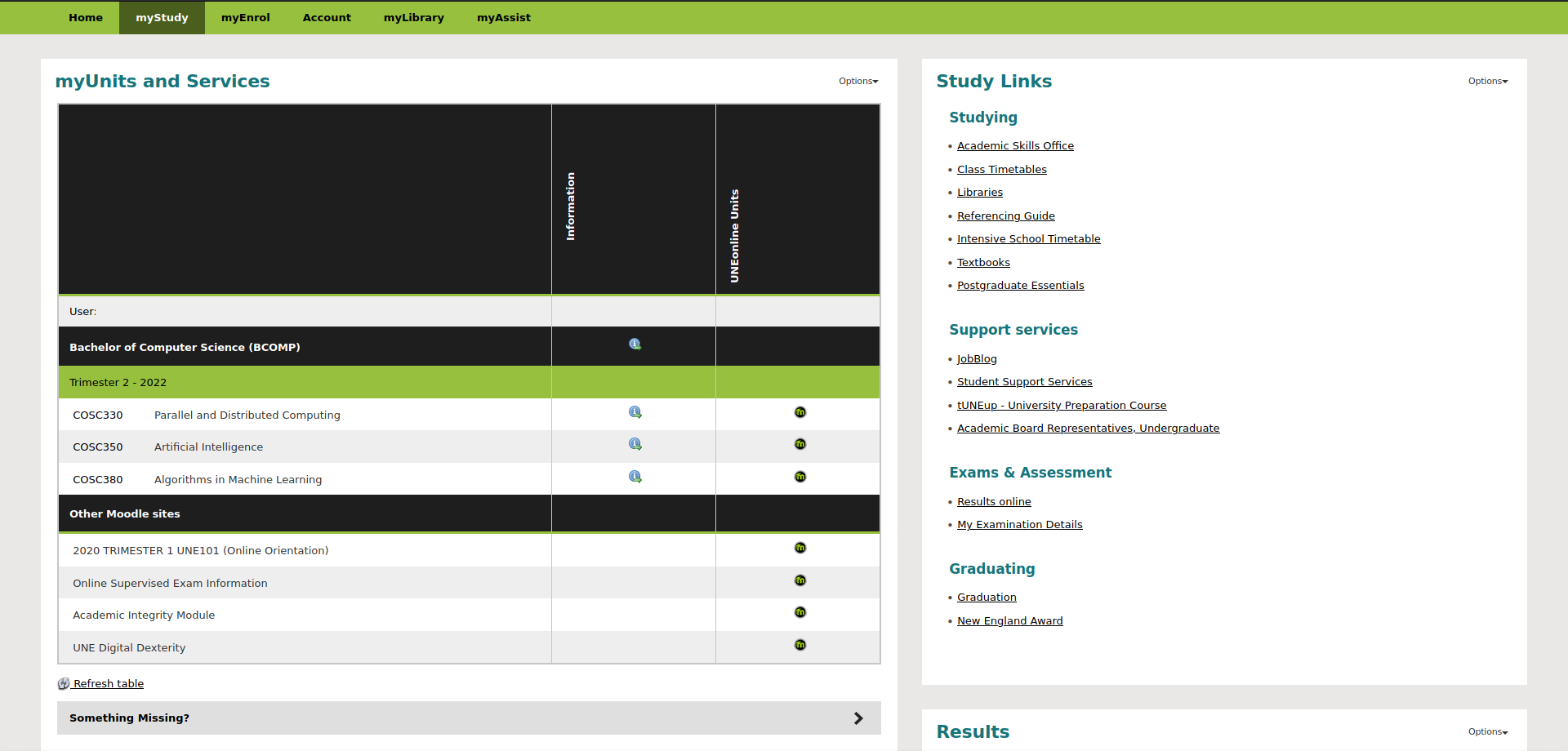 Accessing your units' online sites
All units have a myLearn site that may include features such as unit announcements, a discussion forum, quizzes and learning resources.
myLearn sites are usually released one week before teaching commences, though some units may be released earlier. In the myStudy tab in myUNE, click on the icon in the UNEonline Units column for the site you wish to go to. Alternatively, you can go directly to myLearn using myLearn.une.edu.au. This will bypass myUNE and will take you directly to the UNE myLearn home page. Log in using the button at the top right of the page or the Login link in the header. You will then be taken to your myLearn home page with a list of the sites to which you have access. Refer to Access to myLearn for further information.
You are welcome to access the sites from the week prior to teaching commencing and become familiar with the unit site and view the content that is available at that time. Be aware that teaching staff may not be available until the first day of teaching to answer your questions and content for some units may continue to be added as the trimester progresses.


Printed and other resources
Most units provide all learning material online. As well as this material there may be texts or other items that you need to purchase.


Prescribed and recommended texts
A list of the texts (prescribed and recommended) is available via the UNE Handbook. The information is located on the 'Unit pages' under the 'Learning Resources' heading for each unit. The textbook information page has links to places to purchase texts.


Library services
Dixson Library provides access to vast online resources. You can access online journals, ebooks, borrow books, obtain copies of articles and exam papers, and request advice from librarians on search strategies and information tools to use.


Past exam papers
If sample exams are available for your unit, you can find then in your units myLearn site.



Learning materials for intensive schools starting before the beginning of trimester
If you have an intensive school before the start of Trimester check to see if you can access your unit's myLearn site as there may be information posted about the intensive school. For more detailed information about intensive schools including a link to timetables see the intensive schools page.


Printed copies of electronic resources
Alternative formats of learning materials will not usually be provided unless you have grounds for an exemption. Exemption may be granted in the following circumstances:
You have a verifiable medical condition that prevents use of a computer.
You live in a remote location where internet access is not available.
You are currently in a correctional facility and are unable to access the internet.
If you wish to claim an exemption on any of these grounds, believe that you have other grounds for an exemption, or would like more information please contact the Access and Inclusion Officer, Student Success, by phoning (02) 6773 2897 or sending an email to accessinclusion@une.edu.au.


Accessibility Support
If you have a temporary or permanent impairment or illness which adversely affects your ability to study, access University resources or fully participate in University activities, you may request assistance from Access & Inclusion or from other organisations such as Vision Australia. If this applies to you, your first point of contact should be the UNE's Access and Inclusion Officer. For more information, see
Student Access and Inclusion
.
Last modified: Wednesday, 11 October 2023, 12:19 PM